Features
Patients Record
Doctors can store all patients datas for research and follow-up purposes.
Custom Forms
Design your own form to your convenience for easy interface.
Collect Data in Excel
Download web data to excel format.
Medical Form Templates
Templates from our expert doctors can be imported and used.
About Us
It is an application which helps to capture the information by the end user.
• Being a smartphone application, it can save clinical images also.
• All datas are saved on a secured server in USER Specific domain ( no other user can access the data )
Get started
Platform Dashboard
Simple dashboard to add patient and manage all surgical records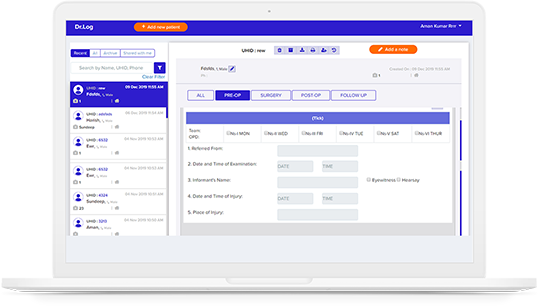 Doctors actively using it
Dr.Lokesh Nehete
(Neurosurgeon)
Nimhans(Bangalore)
Dr.Varun Yerasi
(Neurosurgeon)
Nimhans(Bangalore)
Features of Dr. Log
Log Books are an integral part of any medical institution at all levels of medical professions. It is basically a tool for doctors to maintain all the important data relating to patients, intern attendance and other clinical attachments. Take a look at the features of Dr. Log:
Patients Record
Our software helps in maintaining the patients record which in turn helps you in saving time and enjoying greater convenience by managing all of your patients information and documents at a single place. You can enter patient's insurance policies, track health details, access financial history and store various related documents. With the help of this software, you can access all the important patient clinical medical billing thereby saving your time with several clicks and providing accurate and better care for your patients.
Custom Forms
To save all the important data of patients and treatment record, it is very imperative to maintain all the details at a single place in the electronic form. Our software helps you create custom forms according to the type of data you want to store. You can easily create customized forms without the know how of online form creation. To have a patient review or watch the previous medical history, you can highlight the most recent one and when you update new information, it will automatically get updated along with the date of the last saved changes.
Collect Data in Excel
Spreadsheets can do practically anything right from hosting your to-do list, to helping you complete your tasks and leading you to make better decisions. There is almost nothing that you can't track with the help of Excel spreadsheets and hence, you can easily collect all the data in it without any hassle. This feature of our app makes things easier for you to track, access and thereby take decisions from it.
Medical Form Templates
Jump start your custom form designing with our Dr. Log software feature of Medical Form Templates that are fully customizable and super easy to edit anytime. Our software provides a wide array of widgets, themes and applications to enhance your patient engagement and treatment. You can easily get started by clicking on this feature and choosing one among a plethora of templates based on different information storage and data of the records.
FAQ's
We are using HTTPS to access server
Yes, patient data can be downloaded into excel format
There is no cost for using it as of now.